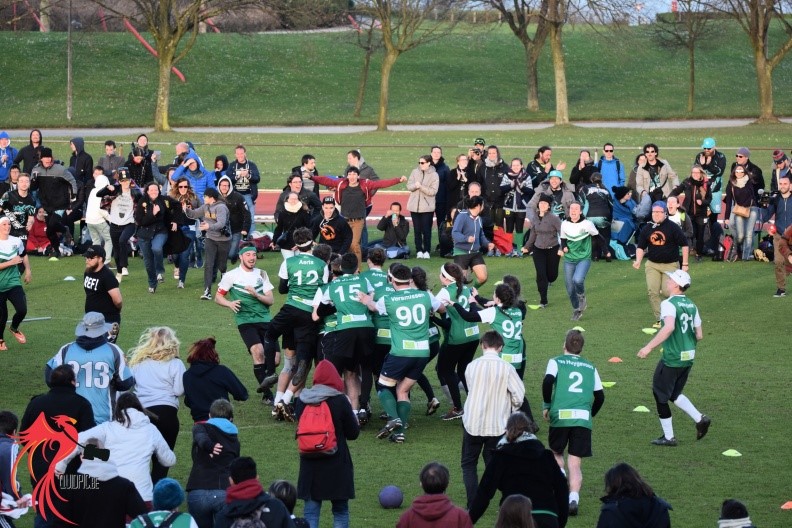 The European Quidditch Cup -EQC for short- is the biggest club tournament in Europe. After the first edition in 2012, it's been organised every year since 2014. For the third time, Belgium will have the honour to host this event, where hundreds of quidditch players, volunteers and spectators come together.         
The last time Belgium hosted EQC in 2017, it was a Belgian team, Antwerp Quidditch, who took home the cup. Last year in Pfaffenhofen Paris Titans were able to beat the Antwerpians in the final. After just missing out on becoming European champions last year, our Dodos are adamant to get back their title of best team in Europe on Belgian soil.
This year Quidditch Europe made a big change to the format of EQC. Due to the fast growth of quidditch in Europe, the tournament was split into two divisions. It gives more teams a chance to play on an international level. Thanks to the new system 48 teams would be able to play at EQC Division I or II this year. Division I focusses on the highest levels of competitive play, while Division II gives all quidditch-countries a fair share of international opportunity (Quidditch Europe, 2017). The winner of Division II was determined in Warsaw on April 14th. This is Berlin Bluecaps Quidditch.
Division I will take place in little over a week in the Forestiersstadion in Harelbeke on May 11th and 12th. Belgian Quidditch Federation and all its members is looking forward to watching four of its teams compete. These are Ghent Gargoyles I, Liège Leviathans A, Antwerp Quidditch and Antwerp B.
Want to know who our Belgian teams will be playing on day 1?
Find out below!
group B
group C
group G
group H
METU Unicorns
Münchner Wolpertinger
Paris Frog Quidditch
Antwerp Quidditch
Ghent Gargoyles I
Lyon Crookshanks
Darmstadt Athenas QC
London Quidditch Club
Oxford Mammoths
Glasgow Grim Reapers
Antwerp B
Rheinos Bonn
Dementores
Quidditch Team

Liège Leviathans A

Sagene IF Quidditch

Barcelona Eagles Quidditch Team