Two teams with a purpose
'Seeing how hard the Dodos exceed themselves works motivating for us as well.' – Nick De Leu
'Thanks to the fresh wind of Nick in the team, Ghent are now where they deserve to be. A beautiful team that certainly should not stop dreaming of more.' – Seppe De Wit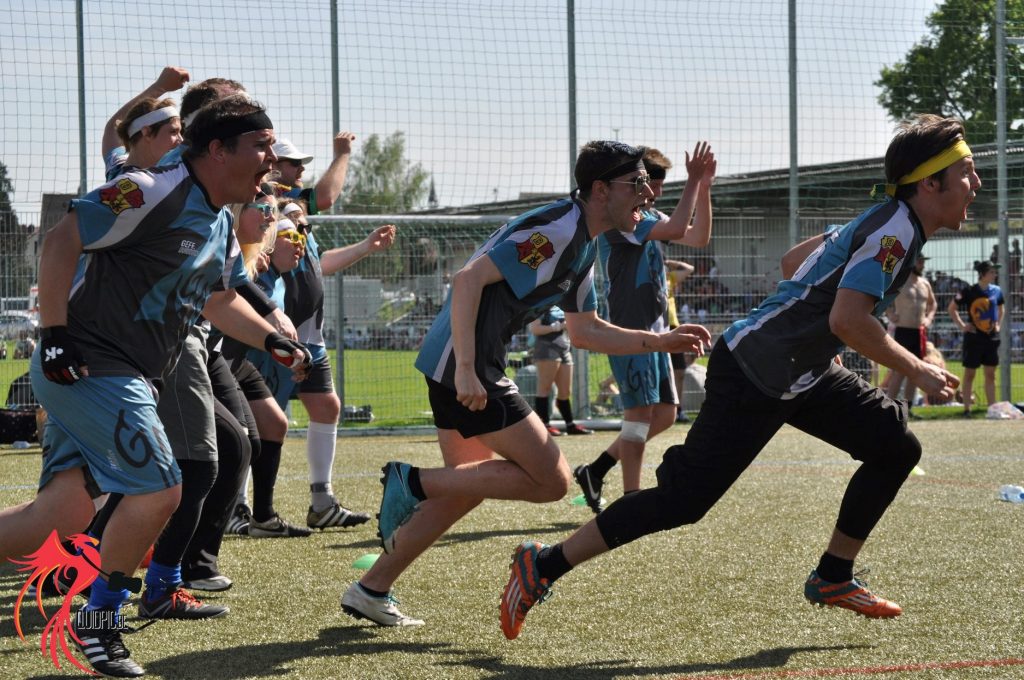 European Quidditch Cup, the highlight of the year for the Quidditch community in our part of the world. It was no different this year. In the weekend of the 28-29th of April, hundreds of players, referees, volunteers and spectators headed down to Pfaffenhofen, Germany, where the event would take place.
So did our two proud Belgian teams, Antwerp Quidditch A and Ghent Gargoyles I. Each had a purpose. Antwerp went to defend their European title, Ghent to gain a spot in upper bracket. We can proudly say that both teams have achieved an incredible performance. Antwerp A unfortunately didn't reach their goal, but they were still able to bring home the silver medal. Ghent Gargoyles did an amazing job, reached upper bracket and ended up as 13th team in Europe.
Antwerp Quidditch A
'The outcome put a damper on the party, but that does not change what the team members mean to one another.' – Seppe De Wit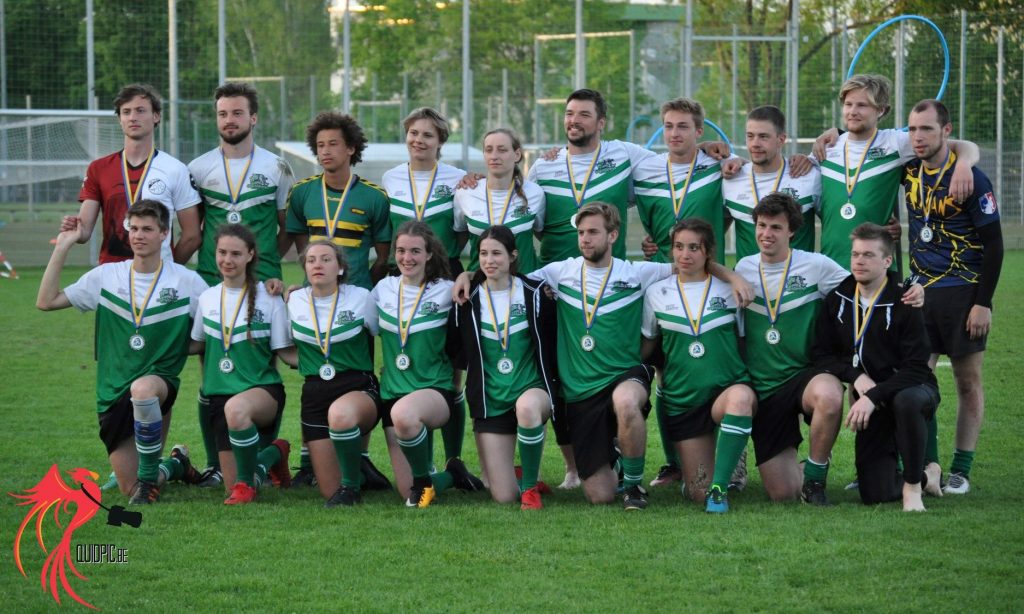 picture: Quidpic.be
The triple number one in Belgium already came in second at EQC two years ago and was crowned European champion one year ago. This year, they weren't going for anything less.
From game one on, it was clear that their journey to the top would be more difficult than they'd hoped for. They had a hard time getting out of range and weren't consistent enough. Still, they showed how strong they could be when playing at their best. Also, they had keeper Nathan Wilputte, who might have played his best tournament to date, to fall back on.
After day one, two wins and one defeat, they were placed first in their group. On day two, the team, led by coach Louis Lermytte and captain Seppe De Wit, fought their way through the knockout stage. Seeker Viktor Marckx bears the honor of catching the snitch in the semi-final, leading his team to the final. Dreamteam Lermytte – De Wit proved once more why they belong amongst the best players in Europe. Katrien De Doncker, whose hard work and perseverance paid off in playing an excellent tournament, 'should be an example for starting or ambitious players', says coach Lermytte.
Unfortunately, the final opponent, Paris Titans Quidditch, had the upper hand in this game and were able to catch the final snitch. A bitter end to an exciting tournament for the Dodos. Nevertheless, they can be very proud of themselves. Let's be honest, isn't it incredible how the team with the average youngest age in Europe can consider themselves among the best in Europe?
Ghent Gargoyles I
'This experience has provided a lot of extra enthusiasm in the team. We hope we can convert this into training commitment and the further expansion of our second team.' – Nick De Leu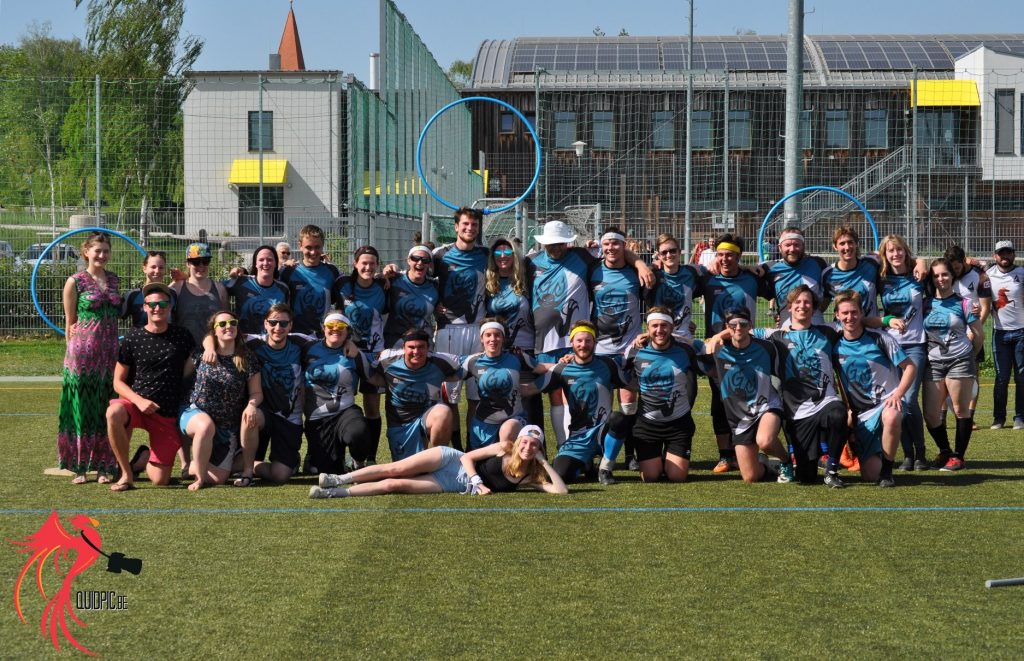 After missing out on EQC last year, Ghent Gargoyles, now second-best team in Belgium, was determined to get to upper-bracket this year.
The Gargoyles had a tough start. In their first game they already had to compete against last year's second place, METU Unicorns. Nevertheless, one loss couldn't bring them down. They proved that hard work and motivation pay off. Under the wing of coach and captain Nick De Leu, they played a very strong second and third game. Star player Micah Unruh, who is an indispensable pawn in Ghent's success, and Dale Housden, formed a fearful attack duo and a strong defence. Viktor Moortgat was a stronghold in the beatersquad. It was new Gargoyles seeker Glenn Bellégou, who finished both games by catching the snitch and thus securing his team's wins. After day one, this tournament was already a success for Ghent. They ended the group stage with one loss, two wins and a well-deserved place in the upper-bracket.
The second day was a lot harder for the Gargoyles. Now belonging in the top 16, they had to compete with the best teams in Europe. They did prove that they deserved to be there. Being able to start their game against the vigorous Velociraptors with a 30-0 lead. Even though they didn't win that game, they stayed positive, strong and consistent. Remarkable was a strong chaserplay of, for instance, Jens De Graeve and Gloria Roelants. After one more loss and another win, with a deciding snitch catch from Jens, they may now call themselves 13th Quidditch team in Europe.
What's next
'Dodos cannot expect less than a European title again. Get back what's ours.' – Louis Lermytte
As this Quidditch season ends, Dodos and Gargoyles are already setting goals for the next one. Both teams are determined to top this year's performance at next year's EQC. Ghent is aiming for a place in the top ten, while Antwerp will work hard to reclaim their title.
Not only our two EQC teams, but all Belgian teams will be working hard this summer. Thanks to the excellent performances of our Belgian teams at EQC, next year we will have four spots instead of two. Antwerp A has already claimed one of those, by ending first in this year's Belgian Quidditch League.
Coming Sunday, Tournai Thestrals + Les Dracognards, Liège Leviathans B and the Flaming Fwoopers are competing in our first Development Cup. The two highest ranked teams will get a chance to compete for the three remaining EQC spots next season, alongside Ghent Gargoyles I, Brussels Qwaffles, Liège Leviathans A and Antwerp B.
As you can see, with Development Cup and summer practices on the way, Quidditch players in Belgium won't take a rest.  
Even more so, 21 of them will be defending the Belgian colours at World Cup in Florence. They are aiming for a golden medal. Make sure to keep an eye on them as well.
Hanne Van Tichelt
A special thanks to Nick De Leu,
Seppe De Wit
and Louis Lermytte
for providing me with information to write this article.
Pictures: Quidpic.be