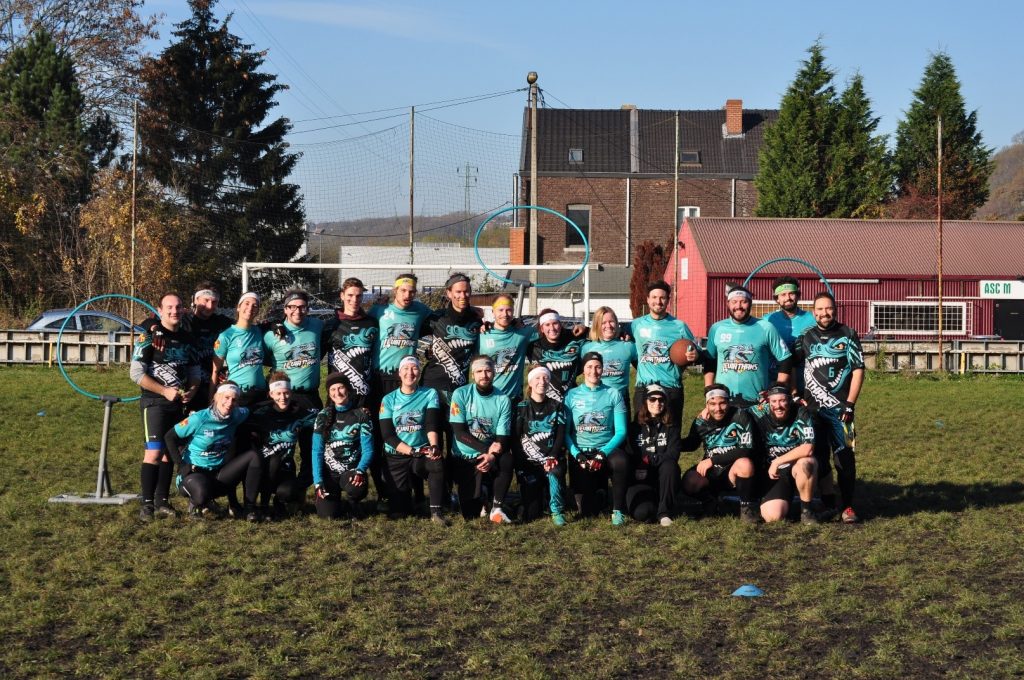 After missing out on European Quidditch Cup last year, Liège Leviathans is making their EQC comeback in Harelbeke. It'll be the team's third EQC participation since its creation in 2015. Liège Leviathans secured one Belgium's four EQC spots at the Qualifier in November, where they had some incredibly strong competition. Coach Arnaud Liépin is therefore very happy with the team's qualification. "Our qualification at the EQCQ wasn't obvious due to a low roster with many injuries and the absence of titular players. But we made it! I remain convinced that we deserve our qualification," thus Liépin.
Gallipoli 2016 gave the new team a taste of high-leveled quidditch. Even though they didn't play their best tournament, it left them yearning for more. A year later the team would already prove their worth, ending first in their EQC 2017-group and ending the tournament on place 13-16. Still, the Leviathan's hunger to win has not yet been satisfied. This year they want to go even further. Their main goal is to get to the upper bracket -top 16 in the tournament-. Beyond that, getting to the quarter final is the real dream. That way the team would improve their result from EQC 2017, getting one round further.
Naturally great results can only be accomplished by lots of practice. Liège Leviathans did just that, by adding one hour to their Sunday-practice. They organized friendlies against Rheinos Bonn and Paris Frogs, taking those results into their following practices. Finally, a training-weekend gave the Liège players the opportunity to work on their game and team spirit. In addition, Liège Leviathans will bring both long-time players such as Sylvain Hochedé, Sandrine Plunus and Arnaud Bourdoux as well as new players like Aurore Quinet and Sébastien Ledoux.
Below, you can find Liège Leviathan's full roster, which might be one of their strongest yet:
| | |
| --- | --- |
| Baldewyns | Bastien |
| Bohet | Maurice |
| Bosly | Aline |
| Bourdoux | Arnaud |
| Cosentino | Christophe |
| Culot | Julie |
| Daelen | Jérémie |
| Englebert | Alexe |
| Hochedé | Sylvain |
| Hustinx | Justine |
| Jottrand | Blaise |
| Kinif | Olivier |
| Ledoux | Sébastien |
| Liépin | Arnaud |
| Linder | Natacha |
| Moureau | Marc |
| Nyssen | Pierre |
| Piette | Gaëtan |
| Plunus | Sandrine |
| Quinet | Aurore |
| Sanches | Manon |
Day 1 schedule for Liège Leviathans:
Liège leviathans
time + pitch
opposing team
8:30 am – pitch 3
Crookshanks Lyon
11:30 am – pitch 5
Münchner Wolpertinger
14:30 pm – pitch 3
Glasgow