Last weekend the IQA Quidditch World Cup took place in Florence. It is the biggest Quidditch tournament in the world. 29 teams from all over the world participated. For the third time Belgium sent their best players, the Belgian Gryffins, to compete in this great tournament. As they say, 'third time's the charm', we can proudly announce that they may now call themselves vice-world champions.
The Quidditch World Cup is a biennial tournament, organised by the International Quidditch Association. It has been organised since 2012, meaning this edition was its fourth. It would also be Belgium's third participation. The previous edition had been won by Australia, our Belgians ended in the seventh place. This time, the tournament took place in the sunny land of Italy. Nazionale Italiana Quidditch was very happy to welcome players, spectators, referees and volunteers. Over 800 players from 29 countries defied the Italian heat to play the tournament of their lives.
21 of those were the Belgian Gryffins. They had been living up to this tournament for months, some of them even for years. They worked all season long to give a performance that would impress the world. Coach Louis Lermytte, captain-assistant coach Seppe De Wit and assistant coaches Nick De Leu and Nathan Wilputte put together and trained an incredibly strong team that would represent the nation. Talented players from Liège, Brussels, Ghent and Antwerp were selected. Some of them were more experienced than others. Wilputte, for example, has been a Gryffin since day one. Beater Soraya Abbagnato has been playing quidditch since 2012, long before it even existed in Belgium. Others, such as Savinien Massin, Suzanne Fischer, Veerle Baumers and Hanne Hermans were relatively new players, but they all still proved that they deserved their spot in the national team. Together, they wanted to top their performance from last time. At World Cup 2016 our Gryffins became seventh, whereas at the European Games 2017 they ended up as fourth best European team.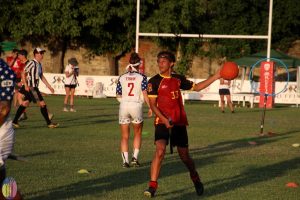 On the first day, the Gryffins already showed what they were capable of. They started off their day by winning a first game against Finland and a second one against Poland. Their biggest challenge of the day would be France. Never before had Belgium defeated France in a Quidditch tournament. From the beginning, the two teams proved to be evenly matched with the scores for both teams going up evenly. It was a very tense game, especially when the snitch came on pitch. Only the third catch was called good. So, thanks to seeker Savinien Massin the game ended and for the first time ever, the Gryffins won from France. With a last win against South-Korea, the first day ended successfully with four out of four wins.
The knock-out stage on day two would be more difficult. After another win against Poland in the round of sixteen, Belgium had to play a second rematch, against France. Even though they won the day before, this rematch was even more tense. With France being thirty ahead in Quafflepoints, Savinien caught the snitch. This meant the game would go to overtime. Finally, after two other catches, one by France, Viktor Marckx made the final catch. Belgium was in the semi-finals, where Turkey proved to be a very strong. But our Gryffins were stronger. Louis Lermytte and Elisabeth Reyniers showed once more what a great beater-duo they are. Quaffleplayers, such as Nathan Wilputte, Emile Aerts and Sylvain Hochedé showed why Belgium deserved to be in the Final. And what an intense final it was. Our brave Belgians played a beautiful game against USA, who were double world champion and single vice-world champion already. That didn't hold the Gryffins back. They managed to get back in range after a difficult start. Youngest Gryffin, Florence Anslot, scored the first goal for team Belgium. More kept following after that, by Seppe De Wit, Paul Bonnet, Suzanne Fischer, … When the seekers came on pitch, Belgium was only twenty points down. Nevertheless, USA had a strong seeker. He caught the snitch within a minute, making the USA world champion once again. Our amazing players ended up vice-world champion after a well fought final.
A silver medal for the Belgian Gryffins, leaves everybody slightly disappointed but very proud at the same time. Becoming the second-best team in the world is an incredible achievement and they deserve it.For now, everyone will enjoy their off-season, but next year the Gryffins will be back even stronger. Who knows what the future might bring? Maybe the title of World Champion next time…
Written by Hanne Van Tichelt